The first and only FDA-approved treatment to temporarily make moderate to severe frown lines, crow's feet and forehead lines look better in adults.
Botox Cosmetic is a prescription medication injected to lessen the appearance of wrinkles by relaxing the underlying muscle. Botox is effective in correcting frown lines between the eyebrows, crow's feet wrinkles and forehead lines. It is important to note that the effects are temporary, lasting from four to six months.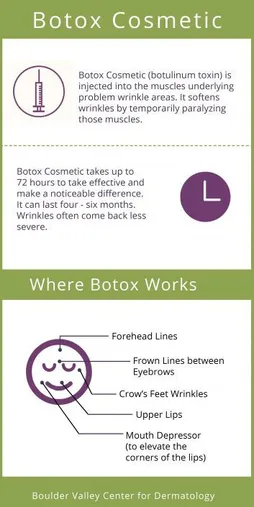 How Long Do Results Last?
The amount of time that the results last can vary from patient to patient. However, results typically last from four to six months. Patients will need follow-up injections in order to maintain the results of this procedure. The good news is that fine lines and wrinkles have a tendency to come back less severe.
Who Can Administer Botox Injections?
Botox can be administered by just about any health care professional. However, it is wise to get this procedure done by a physician who specializes in performing cosmetic procedures, like the board-certified dermatologists at Boulder Valley Center For Dermatology. If a physician assistant or nurse administers the injection, then he or she should be supervised by a doctor. Botox should always be performed in a doctor's office.
What Can I Expect The Day of Treatment?
It takes about 10 to 15 minutes to administer Botox injections. There is very little downtime associated with this procedure. However, it is important to note that you may experience mild side effects, such as soreness and bruising.
Is it Expensive?
The cost of Botox can vary, but it is less expensive than many other cosmetic procedures. It is important to note that Botox for cosmetic purposes is not covered by health insurance.
---
Interested in Botox?

If you are interested in Botox Cosmetic, come and see us. At BV Derm, Botox is administered only by our board-certified dermatologists. To get started, call us to schedule a no-cost consultation with one of our Aestheticians at (303) 604-1444.
Learn more at BotoxCosmetic.com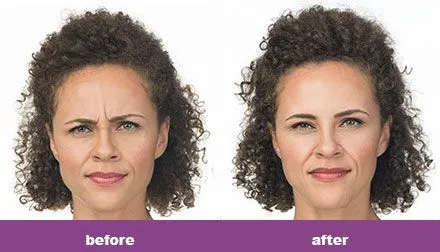 ---
Is Botox Right For You?
The Food And Drug Administration has approved Botox for patients who are between the ages of 18 and 65. You should not have any major health issues. Botox is not intended for women who are pregnant or nursing a baby. It's important to have realistic expectations about Botox; effects are subtle and natural looking. We are glad to meet with you to discuss Botox further. We offer consultations with an Aesthetician so you can explore our cosmetic dermatology options, and find out what's right for you.
(303) 604-1444