Clear + Brilliant is an innovative, specially designed laser skin care treatment that is clinically proven to combat the signs of aging and maintain clear, brilliant skin. Clear + Brilliant is a safe, non-surgical laser treatment that gently rejuvenates the skin from the inside out. Upon treatment, the laser system generates millions of microscopic action zones in the skin, spurring it to replace damaged skin with fresh, healthy skin. Clear + Brilliant also increases the efficacy of topical products.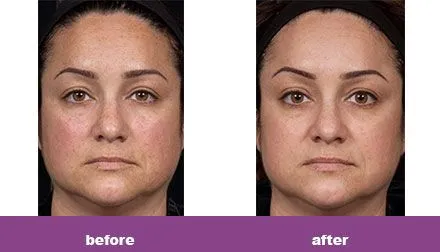 What Can Clear + Brilliant Do?
Aimed at treating or preventing the overall signs of aging, Clear + Brilliant delivers lasting results in just one treatment. A single 10 to 20-minute session can leave the skin softer, smoother and younger-looking. Repeated treatments can extend the results and help maintain a fresh, youthful glow.
In addition to making the surface of the skin appear healthier, Clear + Brilliant also works deep beneath the skin, improving permeability so moisture can seep deep within the skin. Enhanced permeability means that topical products are more effective. Following Clear + Brilliant with a topical antioxidant serum can deliver benefits in tone uniformity, skin brightness, and overall appearance.
Though results vary, patients frequently report younger looking skin and a radiant glow after treatment. Results may include:
• Improvement in the look of fine lines
• Reduction in the appearance of pores
• Improvement to skin tone and texture
• Improvement in skin's overall appearance
• Improvement in the appearance of skin tone
What Does Clear + Brilliant Involve?
A non-invasive treatment, Clear + Brilliant is effective yet gentle. A typical session requires an appointment of approximately 30 minutes, with the procedure itself lasting about 15 minutes. Clear + Brilliant is administered by a trained professional who is certified in the application and use of the system. A topical numbing cream may be applied before the treatment to maintain your comfort. During the procedure, the Clear + Brilliant laser hand tool is used to apply the laser to the focus area. Depending on the type of treatment, a topical antioxidant serum or a biocellulose masque may be applied after treatment. Directly following the treatment, individuals often experience mild redness and swelling, both of which begin to decrease in about 12 hours. In the days following the treatment, the skin often becomes itchy or sensitive as it undergoes the natural renewal process.
Achieving and maintaining healthy, youthful-looking skin requires an effective skincare regimen. If your personal skincare routine doesn't seem to be cutting it, Clear + Brilliant is a great option for enhancing your current routine and enhancing the look and feel of your skin with little effort.
---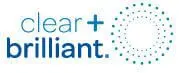 Interested in Clear + Brilliant?
If you are interested in Clear + Brilliant, come and see us. To get started, you can schedule an appointment right away or schedule a no-cost consultation with one of our Aestheticians at (303) 604-1444.
Learn more at ClearandBrilliant.com
---
Is Clear + Brilliant Right for You?
Clear + Brilliant treatments can help fight and prevent the signs of aging. If you have always taken the basic steps to keep your skin looking its best, and you like the way you look now, Clear + Brilliant can help maintain your skin's youthful appearance and prevent the early signs of aging.
If you are seeking a more dramatic correction, there are alternative options such as the Fraxel DUAL laser system. If this is the case, we will be more than happy to discuss your options and expected outcomes. To get started, you may book a consultation with one of our Aestheticians.
(303) 604-1444