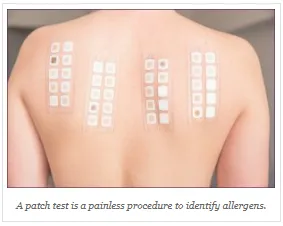 If you have Allergic Contact Dermatitis (common rash), and the source of the allergy is unknown, we can perform a patch test. The patch test will identify what substances might be causing your ACD. In a patch test, small amounts of suspected allergens are placed on your skin under an adhesive coating and monitored for a skin reaction.
The Procedure
A patch test requires three office visits, with one day in between each visit. At BV Derm, we generally schedule patients for these visits on Monday, Wednesday, and Friday.
Day 1
72 allergens are applied to adhesive patches and mounted on non-occlusive tape strips to your upper back.
The patches are left in place for 48 hours. This allows adequate penetration of the allergen into the skin.
Day 3
We remove the patches and examine your skin for any positive reactions.
A positive reaction may manifest as redness, irritation, itching, or small bumps.
Day 5
We perform a second and final examination to distinguish irritant reactions (which fade) from true allergic reactions (which persist) and to identify allergic reactions that appear after patch removal.
It is important to note that you may not get your back wet during the entire 5-day course. You may shower, as long as the back does not get wet.

---
A patch test can reveal the source of your allergic contact dermatitis, and enables us to treat the rash more specifically and effectively. Call us at (303) 604-1444.