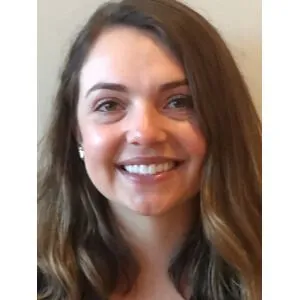 BV Derm Medical Assistant Success Story
Brickley Biondi has been a medical assistant at BV Derm since 2018. She was recently accepted to the Physician Assistant program at Emory and Henry College, located in Marion, Virginia. Brickley expects to graduate in August 2022.
Q What is the most important thing you learned during your time as a MA?

How to be a compassionate provider. Watching Dr. Leddon, Dr. Gallagher, and all of the Physician Assistants interact with patients was influential in my understanding of patient-provider interactions. They are all wonderful providers, and I feel fortunate to have had the opportunity to learn from them.
Q What made you want to go back to school at this point in your life?

For me, there was never a question about going back to school. I always knew I would pursue higher education beyond a bachelor's degree, but I didn't always know which avenue. My time at BV Derm lead me on my current path to PA school.
Q Have you always wanted to be a Physician Assistant, or did this career path evolve over time?

I always knew I wanted to pursue a career in health care but I didn't quite know how that would manifest in real life. Working here cemented my desire and excitement to pursue the PA profession. I am more passionate and ready for my future in medicine after working at BV Derm.
Q Do you have any memories you'd like to share about your time with BV Derm?

Ryan Bird is an inspiration to me. He cares deeply about providing excellent patient care, and simply being a good human to those around him. I am truly grateful for the mentorship he provided during my time at BV Derm. I can only hope to be as thorough, caring, and professional in my own practice one day.
Q What did you learn from the team at BV Derm?

I think the main lesson that I will take away from the doctors is the importance of giving back to the community, and providing compassionate care to all. I admire both Dr. Gallagher and Dr. Leddon and hope to one day incorporate their attitude of service into my own practice as a PA.
Q What challenges do you think you will face in the next few years?

There's no doubt that attending school and becoming a practicing PA will be hard work, but I feel prepared to tackle this challenge. I am especially grateful for my time at BV Derm because I think it has prepared me well for this next stage in my life.
Q What are your hobbies and passions outside of school and work?

I love to ski! During the winter months, my weekends are mostly spent in the mountains. I enjoy simply being outside, whether that is running with my dog Daisy, riding my mom's horse Jagger, biking, or hiking, any outside time is good time!
Please join us in wishing Brickley the best in her medical career!
---
Medical Assistants at BV Derm
Many of our Medical Assistants have used their experience at BV Derm to launch successfully into medical school, physician assistant programs and nursing school. If you're a college graduate with a degree in science, you can gain valuable experience as a Medical Assistant in our thriving medical practice. Consider the benefits of working here:
Leading Dermatology Practice in Lafayette, Boulder & Brighton
Board-Certified Dermatologists
Medical, Surgical and Cosmetic Clinics
Treating Patients of Every Age
Innovative and Principled
Competitive Compensation & Scheduling
If you're interested in our practice, please contact our Practice Manager Kelly Kenyon at 303-604-1444.