Mohs Surgery in Lafayette, Boulder, & Brighton, CO
Mohs surgery, also referred to as micrographic surgery, is an out-patient surgical procedure that uses a microscope to treat common forms of skin cancer. The purpose of Mohs surgery is to remove as many cancerous cells as possible while causing minimal damage to the healthy tissue that surrounds the cancerous cells.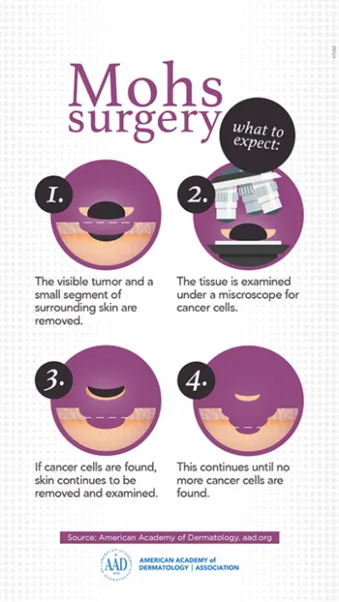 How Mohs Surgery Works
In most cases, cancerous cells will branch out from the original tumor. Although, these cancerous cells cannot be seen with the naked eye, they can be seen with a microscope. During the procedure, surgeons remove one layer of skin at a time. As each layer is removed, it is stained, placed onto a sample slide, and examined under a microscope. The patient waits as each specimen is mapped. If cancerous cells are detected the surgeon will remove another layer of skin around the cancerous area. This procedure is repeated until all samples are free of cancerous cells. The full procedure can last two or more hours. The wound acquired from the surgery can be repaired by natural healing, stitches, or reconstructive surgery.
Success Rates
Studies have shown that the treatment of basal cell and squamous cell carcinoma, the two most common forms of skin cancer, have a 97 to 99 percent success rate. In comparison to other procedures, Mohs Surgery requires the removal of significantly less tissues. This means reduced scar appearance, making it ideal for skin cancer removal on the face. Mohs is also suitable for recurring skin cancers, large areas of skin cancers, and skin cancers with vague boundaries. Your doctor can review your medical history, take a biopsy, and determine if Mohs Surgery is right for you.
Risks of Mohs Surgery
There are few serious risks associated with Mohs surgery. The procedure is performed with local anesthesia, and it is uncommon for patients to complain of pain after the surgery. It is common, however, for the wound to be slightly inflamed after the procedure. Occasionally, patients may have an allergic reaction to ointments or tape used during the procedure, and a rash may develop at the site of the surgery. Patients who develop a rash should contact their physician immediately.
Results of Mohs Surgery
The cure rate of Mohs Surgery is more than 97 percent, but individuals who have been treated for skin cancer should have a full-skin exam yearly with their dermatologist as there is a chance that their skin cancer will return.
If you are interested in Mohs Surgery, come and see our board-certified dermatologists at Boulder Valley Center for Dermatology. To get started, call one of our convenient office locations in Lafayette, Boulder or Brighton, CO at (303) 604-1444 to schedule an appointment!
Learn more about Mohs surgery by visiting the American Academy of Dermatology website.