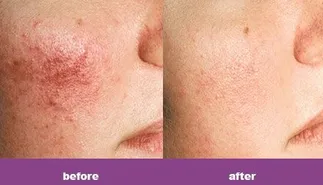 At BV Derm, we offer the Vbeam pulsed-dye laser in our Lafayette clinic. Vbeam is the gold standard for treating vascular, pigmented and certain non-pigmented lesions. We use Vbeam to treat:
Facial and Spider Veins
Acne Scars
Pigmented Lesions
Scars
Stretch Marks
Vascular Lesions
How Does Vbeam Work?
Since VBeam is used to treat dilated blood vessels, as in rosacea, it is often called a vascular laser. Vbeam uses a dye to generate laser beams in different colors, delivered to the skin via pulses. The laser beams selectively destroy blood vessels, without damaging the surrounding skin. The collapsed blood vessels are reabsorbed and eliminated by the body during the natural healing process.
Vbeam does not require anesthesia. The short pulses feel like cold and hot snaps on the skin. The laser delivers a constant stream of cold air to help minimize discomfort.
Results in Rosacea
Our patients see optimum results when they undergo a series of Vbeam treatments. Typically, our patients see a 50% – 75% improvement in their rosacea after 3 – 5 treatments. Because rosacea is a chronic condition, we recommend 1 or 2 Vbeam maintenance treatments per year after the initial series.
Post-Procedure Expectations
After a Vbeam laser treatment, your skin may feel warm, red, and slightly swollen. These after effects are similar to a mild sunburn, and should subside in 3 days to 1 week. We recommend applying a cold compresses to the treatment area to decrease swelling. Some patients also experience mild bruising. This usually fades within the first 3 days.
A Vbeam treatment will make your skin more vulnerable to sun damage. Therefore, you must wear sunscreen at all times when exposed to the sun for several days following your treatment.
---
Interested in Vbeam?
To find out if you are a good candidate for the Vbeam pulsed-dye laser, come and see us for a no-cost consultation with one of our Aestheticians. Contact us at (303) 604-1444.
---
Is Vbeam Right for You?
The Vbeam pulsed-dye laser can be extremely effective in managing the redness caused by rosacea, acne scarring, and other conditions. If you think you are a candidate for Vbeam and want to learn more, contact us for a consultation with one of our aestheticians.
(303) 604-1444