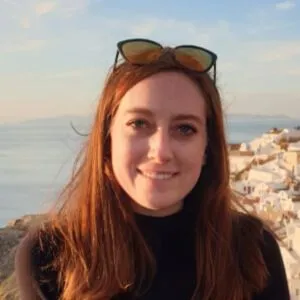 BV Derm Medical Assistant Success Story
Mary Stone-Murphy has served on BV Derm's clinical team as a medical assistant since 2018. She was recently accepted to the Physician Assistant program at Trevecca University in Nashville, Tennessee. Mary expects to graduate in August 2022.
Q What is the most important thing you learned during your time as a MA?

I learned so much about dermatology, procedures, treatments, insurance, and medicine in general. All of this will apply to my future career, but the most important things I learned were how to talk to patients and work effectively as part of a care team. I developed an appreciation for how busy a clinic can be.
Q What made you want to go back to school at this point in your life?

Going to graduate school was always my plan. I wanted to spend time as medical assistant to accrue the care hours required by the Physician Assistant programs I was interested in. There is so much to learn, and I appreciated all the help from the BV Derm team.
Q Have you always wanted to be a Physician Assistant, or did this career path evolve over time?

As a double major in biology and chemistry, I had a good deal of a lab experience and was on track to work in research. I quickly learned that an isolated lab was not where I wanted to work. A friend of mine had a similar crisis and suggested I try volunteering as a Medical Assistant at a free clinic in Providence, RI. I fell in love with patient care, and wanted to learn more about practicing medicine. My time at BV Derm further solidified my love of medicine and allowed me to make lasting relationships.
Q Do you have any memories you'd like to share about your time with BV Derm?

My co-workers have been like family and we've shared some amazing experiences, including hiking a Colorado 14er! Several patients left a lasting impact on me. I've learned how to keep calm while caring for a frustrated patient, and I've enjoyed the gratification of helping patients get the care they need.
Q What did you learn from the team at BV Derm?

Dr. Leddon and Dr. Gallagher are wonderful teachers and I learned a great deal by watching them interact with patients. Dr. Gallagher took interesting cases and shared his thought processes with me. Dr. Leddon taught as she worked and always seemed to have the right answer. The PAs taught me the most. All three would take the time to answer my many questions. As I became more familiar with dermatology, they would allow me to comment on their diagnoses and treatments, and help me understand when my guesses were wrong. They were amazing teachers and excellent resources for someone like me going on to PA school.
Q What are your hobbies and passions outside of school?

I've run two marathons and teach ballroom dancing. I love anything that gets me outside, keeps me active, and allows me to meet new people. As an undergrad, I studied abroad for three months, visiting 16 countries and 36 cities. It was an amazing experience and I hope to travel more throughout my life.
Please join us in wishing Mary the best in her medical career!
---
Medical Assistants at BV Derm
Many of our Medical Assistants have used their experience at BV Derm to launch successfully into medical school, physician assistant programs and nursing school. If you're a college graduate with a degree in science, you can gain valuable experience as a Medical Assistant in our thriving medical practice. Consider the benefits of working here:
Leading Dermatology Practice in Lafayette, Boulder & Brighton
Board-Certified Dermatologists
Medical, Surgical and Cosmetic Clinics
Treating Patients of Every Age
Innovative and Principled
Competitive Compensation & Scheduling
If you're interested in our practice, please contact our Practice Manager Kelly Kenyon at 303-604-1444.